There has been concern expressed by regular users of Cobblers Beach that persons or organisations unnamed are lobbying to have a public path routed westbound down to the grassed area at Cobblers Beach, then up the unmade roadway and then west to the Royal Australian Naval Base and up Middle Head Road.
The cost of creating such a path, to modern standards, down the very steep rocky slope north and east of Cobblers Beach would make this a very expensive route, and would mean it would be very difficult for older people or anyone with mobility issues, and totally inaccessible to wheelchairs.
NSW National Parks and Wildlife Service, being a government service, has to do all their projects to the very highest standards,  which includes making them accessible as much as possible to people who have mobility challenges.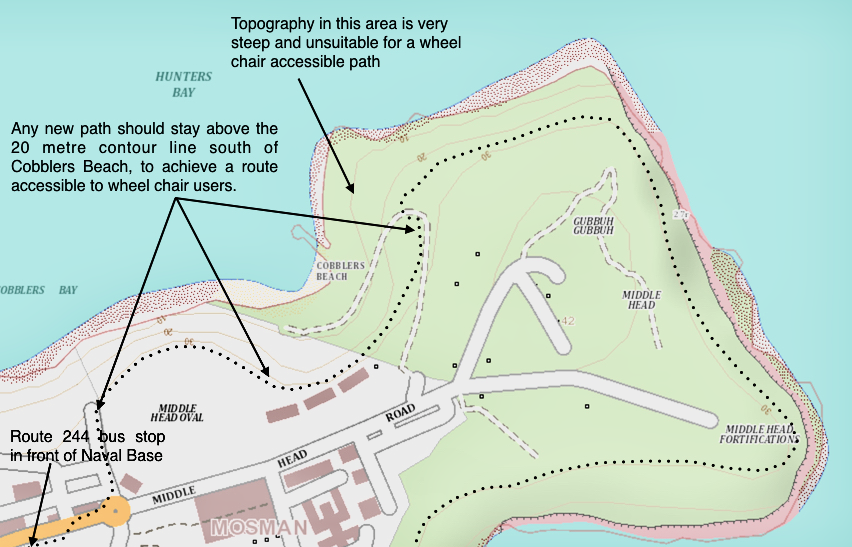 Fig. 1 Proposed route for extension of Bungaree Path around the North East of Middle Head and west around Cobblers Beach
My own recommendation is that the new path around the northern tip of Middle head then west to Naval Base is routed above the 20 metre contour. This would avoid the huge cost of expensive, elevated galvanised metal decking and stairs, such as was installed west of the Naval Base to link Georges Heights to Balmoral Beach.
I have already had positive discussions with Sydney Harbour Federation Trust (SHFT) about routes for the extensions to their existing Bungaree Pathway, where it exists on land controlled by SHFT.  Back in January 2017 they told me that it was almost impossible for them to have any meaningful discussion with staff at NSW National Parks and Wildlife Service, because all the future planning was being done in the NSW Office of Environment & Heritage.If people want to ensure that Cobblers Beach remains a clothing optional beach then they need to be prepared to support a campaign for an acceptable, practical, economic route for the extension of the Bungaree Pathway around the northern side of Middle Head, past Cobblers Beach.
I would welcome your comments or feedback on my recommendations.  If we can establish a broad consensus amongst regular users of Cobblers Beach then it becomes much easier to lobby NSW Office of Environment and Heritage,  who published their Master Plan for Middle Head last year.
---
John Young
Director
Cubba Cubba Project
yindi1951@gmail.com
10-mar-2017